(S02E012 ) Previous Episode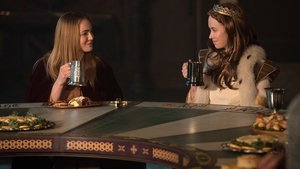 Aired On 2017-02-21
The Legends continue their quest to hunt down the Spear of Destiny before the pieces fall into the hands of the Legion of Doom. The Legends discover that pieces of the Spear are each being guarded in different time periods by members of the JSA. Their first stop is the future where they find Dr. Mid-Nite which eventually leads them to the past and King Arthur's Camelot, where Stargirl is protecting her piece of the Spear. In order to protect the Spear shard from the now-evil Rip Hunter, the Legends must join forces with the Knights of the Round Table.
Next Episode (S02E013 )
Airs On 2017-03-07
After capturing Rip, he forces the Waverider to crash, leaving the Legends stuck seventy million years in the past. Ray leads Amaya and Nate to recover a vital piece of the ship. In an effort to get the "good" Rip back, Rory suggests they enter Rip's mind, but what Sara and Jax discover in his subconscious is not pleasant and they must fight evil versions of themselves. Meanwhile, Nate and Amaya continue to get closer, but it could cause serious ramifications.
When heroes alone are not enough ... the world needs legends. Having seen the future, one he will desperately try to prevent from happening, time-traveling rogue Rip Hunter is tasked with assembling a disparate group of both heroes and villains to confront an unstoppable threat — one in which not only is the planet at stake, but all of time itself. Can this ragtag team defeat an immortal threat unlike anything they have ever known?
Writing:
Greg Berlanti
Andrew Kreisberg
Marc Guggenheim
Stars: