(S07E039 ) Previous Episode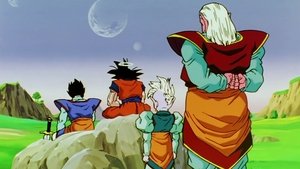 Aired On 2017-10-21
Goku arrives in the Realm of the Kais where Gohan is training with the Z-Sword, deciding to help him with his training. Meanwhile, Buu, who has already killed two thirds of Earth's population, comes across a blind young boy and heals his vision, becoming surprised when he thanks him instead of being afraid.
Next Episode (S07E040 )
Airs On 2017-10-28
After some dubious persuasion from Goku, Old Kai reveals he has the ability to draw out someone's true power beyond their limits, though this turns out to be a lengthy process that can take over a day to complete. Meanwhile, Goten and Trunks try out the Fusion Pose for real, but an error in the Fusion Pose results in the merged fighter, Gotenks, ending up with a failed transformation
Rejoin Goku and his friends in a series of cosmic battles! Toei has redubbed, recut, and cleaned up the animation of the original 1989 animated series. The show's story arc has been refined to better follow the comic book series on which it is based. The show also features a new opening and ending. In the series, martial artist Goku, and his various friends, battle increasingly powerful enemies to defend the world against evil. Can Earth's defender defeat demons, aliens, and other villains?