(S07E031 ) Previous Episode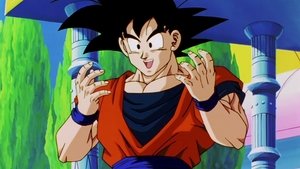 Aired On 2017-08-19
Bulma's group goes to seek out the Dragon Balls so they can revive all the spectators that Vegeta killed, coming up against a large dragon whilst trying to get the last one. Meanwhile, as Piccolo and Krillin as they leave Goten and Trunks in the care of Dende and Mr. Popo, they are soon joined by Goku, who learns about the situation. Goku states he isn't strong enough to defeat Buu, but mentions having learned a technique known as Fusion, in which two similarly built fighters can merge together to become a single powerful fighter.
Next Episode (S07E032 )
Airs On 2017-08-26
Using the Dragon Balls, Bulma summons out Shenron, using one of its wishes to bring back everyone who had been killed that day. As using all three wishes would mean they would have to wait another year before they can use the Dragon Balls again, Goku warps over to Bulma's group and convinces Shenron to postpone the other two wishes, shortening that time to four months. Kibito, who was revived by the wish, manages to find Supreme Kai and heal his injuries, and together they manage to find Gohan and decide to bring him to the world of the Kais.
Rejoin Goku and his friends in a series of cosmic battles! Toei has redubbed, recut, and cleaned up the animation of the original 1989 animated series. The show's story arc has been refined to better follow the comic book series on which it is based. The show also features a new opening and ending. In the series, martial artist Goku, and his various friends, battle increasingly powerful enemies to defend the world against evil. Can Earth's defender defeat demons, aliens, and other villains?