(S07E045 ) Previous Episode
Aired On 2017-12-09
Piccolo's hopes of being able to buy some time are dashed when Evil Buu unleashes a powerful homing attack which targets and kills every human on the earth, with the exception of Mr. Satan, Tien, and Chiaotzu. Piccolo, along with Videl, manages to convince Evil Buu to wait for an hour so that Goten and Trunks can train. Meanwhile, Gohan, tired of waiting any longer for Old Kai's power-up, discovers that he has indeed managed to increase his power and agrees to wait for the power-up to be completed.
Next Episode (S07E046 )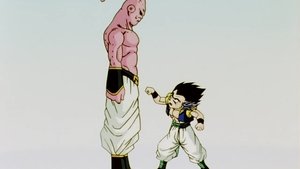 Airs On 2017-12-16
Piccolo continues to lead Evil Buu to the Time chamber, when Goten and Trunks train hard to avenge the loved ones that they have lost. After rerouting Buu through Kami's palace, due to Buu being extremely unhappy and throwing tantrums every now and then, Piccolo takes Buu to the Time chamber, and Gotenks fights Buu after a warm-up round and playing around.
Rejoin Goku and his friends in a series of cosmic battles! Toei has redubbed, recut, and cleaned up the animation of the original 1989 animated series. The show's story arc has been refined to better follow the comic book series on which it is based. The show also features a new opening and ending. In the series, martial artist Goku, and his various friends, battle increasingly powerful enemies to defend the world against evil. Can Earth's defender defeat demons, aliens, and other villains?