(S012E013 ) Previous Episode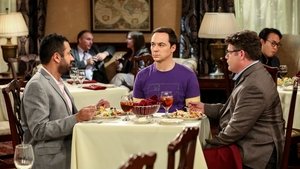 Aired On 2019-01-17
Sheldon and Amy are thrilled when their super asymmetry theory is proven by two physicists, until they try to kick Amy off the Nobel nomination; Bernadette has a big success at work.
Next Episode (S012E014 )
Airs On 2019-01-31
Sheldon is thrilled to help Bernadette and Wolowitz navigate bureaucratic paperwork, until he discovers they are breaking the law. Also, Leonard is disappointed when his friends exclude him from a scientific project.
The Big Bang Theory is centered on five characters living in Pasadena, California: roommates Leonard Hofstadter and Sheldon Cooper; Penny, a waitress and aspiring actress who lives across the hall; and Leonard and Sheldon's equally geeky and socially awkward friends and co-workers, mechanical engineer Howard Wolowitz and astrophysicist Raj Koothrappali. The geekiness and intellect of the four guys is contrasted for comic effect with Penny's social skills and common sense.
Writing:
Chuck Lorre
Bill Prady
Adam Faberman
Stars: